Backwaters-Western Ghats-Thekkady Munnar
• No of Days – 7 days ( 6 nights and 7 days)
• No. of Pax : 2 adults and 1 kid below 9 years
• Includes : Boarding, Transport, Breakfast and Dinner
• Entertainment – Sightseeing, Trekking, House Boat, Paragliding and Jeep Safari
• Total cost Rs. 90,000.00 ( Valid up to 15th November 2017)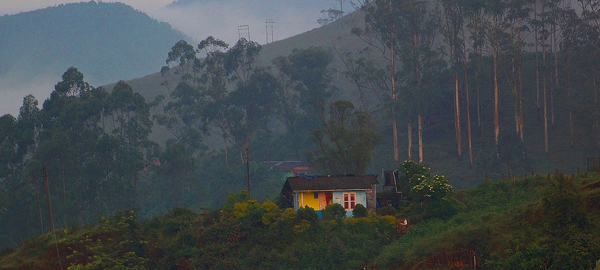 DAY 1 - ARRIVAL IN COCHIN – 80 KMS
Once your morning arrival at Cochin airport, our rep will assist you in getting transferred to the Resort in Alleppey. Alleppey, also referred to as Alappuzha and the "The Venice of East", is among the oldest planned towns in the region. A town with picturesque canals, backwaters & lagoons. Kuttanad, the rice bowl of Kerala with the unending stretch of paddy fields, small streams and canals with lush green coconut palms, was well known even from the early periods of the Sangam age. History says Alappuzha had trade relations with ancient Greece & Rome in the pre Jesus era. Alleppey is now the hub for backwaters tourism in Kerala. Famous for houseboat cruise, boat races, clear beaches and marine products, this place is a world-famous backwater holiday destination. In the afternoon, enjoy local sightseeing in and around Alleppey. You can also enjoy a complimentary 30 minutes boat ride on the backwaters. Overnight stay in Alleppey. (Boarding: Caption's Cabin –Luxury Resort at backwaters-Nedumudy, Alleppey)
Day 2 - Alleppey – Kumarakom-Vagamon – 90 Kms
After a tasty breakfast, proceed from Alleppey to Kumarakon. Your journey in the house boat through the backwaters will be adorable. You reach Kumarakaom, one of the best tourist places in Kerala. Together with the sightseeing, if interested, you can have glance to the "Bird Sanctuary" too. Also, you can enjoy a complimentary romantic lunch on the houseboat, which will enhance the flavor of your day – floating through the backwaters. And by the afternoon proceed to Vagamon via road. Your trip will be adorned with verdant tea gardens and rolling hills that attract tourist from all over the world. Upon arrival, check into the resort and later in the night enjoy the panoramic view of God's Creation, and spend some one-on-one time with Mother Nature here. An overnight stay in the resort. (Boarding: D'Heavenly Mist Resorts-Vagamon- Luxury resort on Western Ghats)
Day 3 - Vagamon Sightseeing
Vagamon was discovered by the British who found the place ideal for tea plantations and they were followed by Christian missionaries who built their abode of service at Kurisumala in Vagamon. National Geographic Traveler has listed Vagamon on their directory of the "50 most attractive places to visit in India". Still untouched by commercialization, the sleepy town with its scenic valleys, beautiful green meadows, enchanting pine forests, mists, fogs, tea estates, waterfalls with the overall greenery is really striking. The landscape is mostly hilly bald with green meadows. Vagamon is also home to a large variety of flowers and orchids. Cuddled up within three striking hills Thangal, Murugan and Kurisumala hills which are the representation of the chief religions in Kerala, i.e. Hindu, Muslim, and Christian which represent the cultural harmony. Vagamon has amenities for trekking, paragliding, mountaineering and rock climbing- which of course required to prior planning... And overnight stay in the resort. (Boarding: D'Heavenly Mist Resorts-Vagamon- Luxury resort on Western Ghats)
Day 4 – Trip to Thekkady
Enjoy a tasty breakfast in the morning, you will be transferred to Thekkady, an astounding location of Periyar National Park in Idukki district. Delighting in the scenery presented by spice plantations, waterfalls, grasslands, and misty mountains, you will reach Thekkady. Now you will be taken to Periyar Wildlife Sanctuary. Later enjoy a boat ride on the Periyar Lake, where you also get a chance to spot wild animals and a myriad of birds. The place is known for its exotic wildlife and views of sunset, which one should not miss the wilderness and a rich variety of flora and fauna will manifold your delight. Towards the evening, set off to Kumily village to visit its spice market and also buy some. If interested you can, proceed for a spice plantation tour and explore the variety of spices grown in Kerala. You may also buy some of them. The opportunity to witness Kerala's great "KALARIPAYATTU" or to experience an "Elephant Ride" will be an added advantage, which are to be booked in advance. Return to the Resort for an overnight stay. (Boarding: D'Heavenly Mist Resorts-Vagamon- Luxury resort on Western Ghats)
Day 5 – Trip to Munnar ( 90 kms)
Enjoy an early breakfast in the morning, you will be transferred to Munnar, an astounding location of beauty. Munnar rises as three mountain streams merge - Mudrapuzha, Nallathanni and Kundala. 1,600 m above sea level, this hill station was once the summer resort of the erstwhile British Government in South India. Sprawling tea plantations, picturesque towns, winding lanes and holiday facilities make this a popular resort town. Among the exotic flora found in the forests and grasslands here is the Neelakurinji. This flower which bathes the hills in blue once in every twelve years, will bloom next in 2018. Munnar also has the highest peak in South India, Anamudi, which towers over 2,695 m. Anamudi is an ideal spot for trekking. (Boarding: Luxury Hotel - Munnar)
Day 6 –Munnar – Sight Seeing
Eravikulam National Park: One of the main attractions near Munnar is the Eravikulam National Park. This park is famous for its endangered inhabitant. Anamudi Peak -Located inside the Eravikulam National Park is the Anamudi Peak. This is the highest peak in South India, standing at a height of over 2700 m. Treks to the peak are allowed with permission from the Forest and Wildlife authorities at Eravikulam. Mattupetty Another prime draw for visitors, located about 13 km from Munnar Town, is Mattupetty. Situated at a height of 1700 m above sea level, Mattupetty is known for its storage masonry dam and the beautiful lake, which offers pleasurable boat rides. Pallivasal - is the venue of the first hydro-electric project in Kerala. It is a place of immense scenic beauty and is often favored by visitors as a picnic spot. Chinnakanal & Anayirangal -Near Munnar Town lay Chinnakanal and its waterfalls, popularly known as the Power House Waterfalls, which cascade down a steep rock 2000 m above sea level. Tea MuseumMunnar has a legacy of its own when it comes to the origins and evolution of tea plantations.
Day 7- Munnar - Cochin Departure – 70 kms
After a wholesome breakfast, drive to Cochin airport. This is at a distance of 110 km and will take around 2 hours for you to reach there. Have a safe journey back home. The memories of this experience will last at least for a lifetime.
INCLUSIONS
oAccommodation in well appointed room for 2 adults and 1 kid below 9years
oMeals as per hotel plan
oAll transfers & sightseeing as per the itinerary in an air – conditioned vehicle
oAll toll taxes, parking fees & drivers allowance.
EXCLUSIONS
o GST: as applicable
o Anything not mentioned under 'Package Inclusions'
o All personal expenses, optional tours and extra meals
o Camera fees, alcoholic/non-alcoholic beverages and starters
o Vehicle service on leisure days for sightseeing not included in the itinerary
o Medical and travel insurance.
Terms & Conditions
• Paragliding and Jeep safari will be at additional cost. And the availability depends up on the weather conditions.
• D'Heavenly Assured products are designed to provide perfect moments by offering high-end products and impeccable services.
• A detailed Itinerary will be provided upon Booking.
• All the service assured hotels as per the itinerary will be offered.
• There will be a dedicated team to help with the booking, formalities and all other service related activities prior to the tour beginning and during the travel.
• Transportation by good Quality & comfortable fleet of vehicles.
• Immediate assistance and change of vehicle will be arranged with in minimum humanly possible time in case of break down.
• One child(below 9 years) sharing parents room without an extra bed will be accommodated free of any charge
• Refund will be processed with in seven working days in case of package cancellation.
• Except in case of force majeure situations beyond our control, free one night extended stay will be given to the customer & and we will pay the differential cost for the next day from the extended stay. If the stay is for more than 1 day customer will have to pay from second day onwards
Service compensation clauses:
1. Delay in pick up:
• In case the driver does not report for pick up at the confirmed time: For everyone an hour delay, we will compensate the customer Rs 250/-
• In case the cab is delayed beyond two hours, customer can take the taxi and we will refund the taxi bill along with Rs 500 for the delay. (* The customer should immediately inform our team at the emergency number about the delay. * Any amount which is agreed upon as part of the compensation, shall be deposited as eCash in the customer's account post the travel is completed.)
2. Sight- seeing:
We will ensure all the places mentioned in the itinerary are covered. Apart from any ground situation or traffic reasons or any other force majeure reasons beyond the control, we will compensate Rs.500/- per place.
PAYMENT POLICY
Advance Booking Fee
o50% in advance while booking
oBalance 50% - 20 days before date of departure date
Important:
The booking stands liable to be cancelled if 100% payment is not received less than 20 days before date of departure.
Cancellation Policy
You or any member of your party may cancel their travel arrangements at any time. Written notification or an e-mail to that effect from the person who made the booking must be received at our office. The cancellation charges applicable are as per the published cancellation policy below:
Cancellation charges per person
o30 days or more before departure: 25% of total cost
o29 – 20 days before departure: 50% of total cost
oLess than 20 days before departure: 100% of total cost
If you want to change your holiday plan
After confirmation of services, if you wish to change your travel arrangements in any way (e.g. your chosen departure date or accommodation), we will do our utmost to make these changes but it may not always be possible. Any request for changes must be in writing from the person who made the booking. All cost incurred due to amendment will be borne by you.
If you have a complaint
If you face any problem during your holiday, please inform the relevant supplier (e.g. your hotelier, transporter etc.) and/or our representative immediately who will endeavor to set things right. If your complaint is not resolved locally, please follow this up within 28 days of your return home by writing to us, with your booking reference and all other relevant information. However, please be advised that while we are happy to assist you in the redressal of your complaint, if any, we will be able to extend only our best efforts in managing/coordinating your complaint with the respective service provider. All third party service providers are independent contractors who are at no time under our control or supervision.